Rehab Hospital Development Completed In Tacoma, Wash.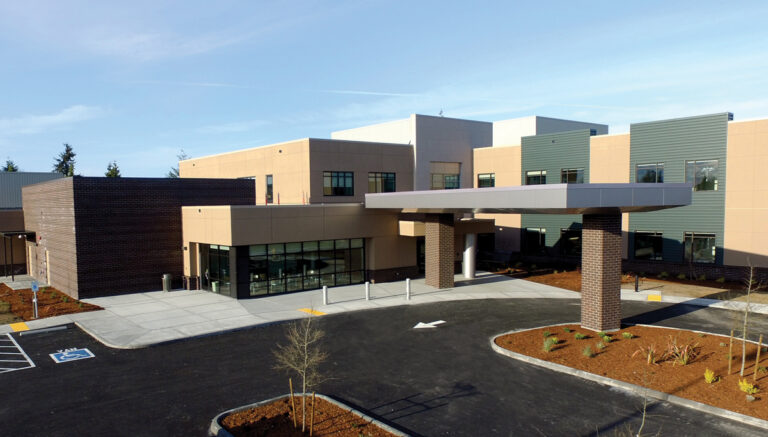 © Aldrich + Associates
TACOMA, WASH
.
(06/12/2018):
The CHI Franciscan Rehabilitation Hospital, a joint-venture between CHI Franciscan Health and Kindred LifePoint Healthcare, Inc., admitted its first patient last month. The new $30.5 million facility, serving the Puget Sound region, is western Washington's first freestanding inpatient rehab hospital. The new facility's extensive clinical team, specifically trained in the field of rehabilitation, treats patients recovering from acute injuries and illness.
"Ensuring our communities throughout the Puget Sound have access to the highest quality care is at the center of everything we do," said Ketul J. Patel, CEO of CHI Franciscan Health. "Our new state-of-the-art hospital will double our current capacity, allowing us to care for the increasing demand of patients in need of specialized rehabilitative services."
The 64,000+ square-foot rehab hospital marks the first West Coast development for Capital Growth Medvest ("Medvest") as it continues expanding its footprint. Medvest selected Aldrich + Associates, a locally based general contractor, for their extensive experience in healthcare construction. Earl Swensson Associates, consistently recognized as one of the nation's top healthcare design firms, acted as the project architect.
About Capital Growth Medvest
Capital Growth Medvest, based in Birmingham, Alabama, helps medical facilities operate efficiently through real estate development and funding support. Its founders have completed well over $1 billion in healthcare developments and acquisitions, allowing them to find solutions to even the most complex needs. Medvest delivers the knowledge, relationships and resources to help reach a facility's goals.
About Kindred LifePoint Healthcare
Kindred LifePoint Healthcare, Inc., a top-105 private employer in the United States, is a FORTUNE 500 healthcare services company based in Louisville, Kentucky. Ranked as one of Fortune Magazine's Most Admired Healthcare Companies for nine years, Kindred LifePoint's mission is to promote healing, provide hope, preserve dignity and produce value for each patient, resident, family member, customer, employee and shareholder we serve.
About CHI Franciscan Health
CHI Franciscan Health is a nonprofit health system based in Tacoma, Washington, with $2.45 billion in total revenue and a team of more than 12,000 doctors, nurses and staff that provide expert, compassionate medical care at eight acute care hospitals and over 200 primary and specialty care clinics in Pierce, King and Kitsap counties.
Comments or Questions:
Joe Baugh: (205) 969-7140