New Rehabilitation Hospital Open In Knoxville, TN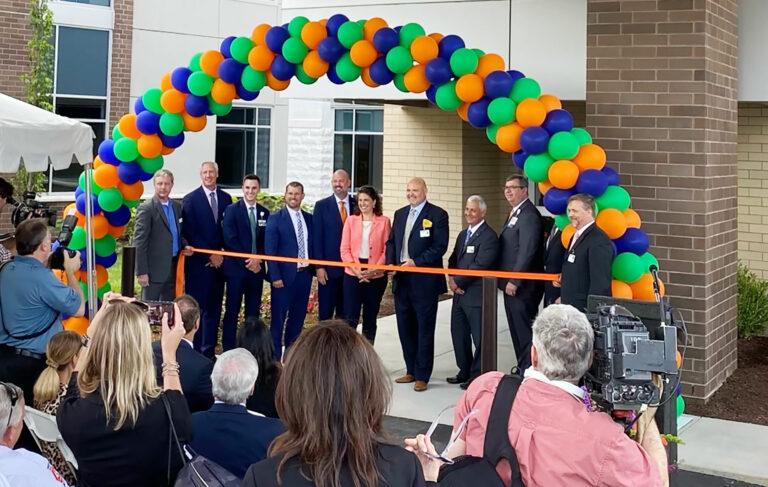 KNOXVILLE, TENN
.
(06/30/2021):
Capital Growth Medvest, a medical real estate developer based in Birmingham, Ala., is celebrating this month's opening of Knoxville Rehabilitation Hospital. The new facility is a partnership with Kindred LifePoint Healthcare, Tennova Healthcare and The University of Tennessee Medical Center (UTMC). Last week's ribbon cutting ceremony marked the beginning of a new standard in rehabilitation care for patients across the Knoxville area.
The new 70,000-square-foot, 57-bed hospital, equipped with all private rooms, is dedicated to the treatment and recovery of individuals who experience an injury or illness resulting in the loss of function. Patients will benefit from today's latest technology, such as specialized therapy gyms, augmented reality balance training, therapy bionics and a full-body exoskeleton. The facility includes a therapeutic courtyard with helpful amenities, including a golf chipping range.
"It's really exciting to be the developer of a joint project with three leading healthcare providers. They're all committed to delivering excellent quality and service to the Knoxville area," said Joe Baugh, managing partner at Capital Growth Medvest. "It's going to be great to watch the impact it has on their patients and the community."
A specialty brain injury unit includes monitored rooms, specialized beds and separate dining area. Additionally, stroke patients have a unique unit with family-friendly, sleeper chairs in each private room. Patients are provided access to an apartment setting for performing daily living tasks while preparing for their return home.
The new two-story hospital anticipates serving more than 1,200 patients each year with an approximate stay of two weeks. The successful design has been implemented at several Kindred LifePoint rehabilitation hospitals throughout the nation.
JE Dunn acted as the project's general contractor. Earl Swensson Associates, based in Nashville, was the project architect.
About University of Tennessee Medical Center
UT Medical Center is a 685-bed, not-for-profit academic medical center, with a regional network of primary care and specialty care physicians and practices as well as outpatient regional health centers and urgent care locations throughout its 21-county primary service area. The medical center, the region's ACS-verified Level I Trauma Center and state designated regional perinatal referral center with a Level III private room NICU, is one of the largest employers in Knoxville.
About Tennova Healthcare
Tennova Healthcare encompasses 9 hospitals and numerous health care service facilities. Offering a range of medical services and procedures to patients in the state, Tennova Healthcare brings quality health care to a community near you with services and an experienced team of physicians and caregivers. Spread across Tennessee, Tennova Healthcare is one of the State's largest health networks.
About Kindred LifePoint Healthcare
Kindred LifePoint Healthcare, LLC is the nation's leading specialty hospital company delivering acute health services in its long-term acute care hospitals, inpatient rehabilitation hospitals, acute rehabilitation units, and behavioral health line of business, all specializing in treating the most medically complex patients. Based in Louisville, Kentucky, and ranked as one of Fortune magazine's Most Admired Healthcare Companies for nine years, Kindred LifePoints's mission is to help our patients reach their highest potential for health and healing with intensive medical and rehabilitative care through a compassionate patient experience.
About Capital Growth Medvest
Capital Growth Medvest, based in Birmingham, Ala., helps medical facilities operate efficiently through real estate development and funding support. Its founders have completed well over $1 billion in healthcare developments and acquisitions, giving them the experience to find solutions to the most complex needs. Today, it delivers the knowledge, relationships and resources to help reach an organization's goals.
Comments or Questions:
Joe Baugh: (205) 969-7140