Knoxville Rehabilitation Hospital Development Underway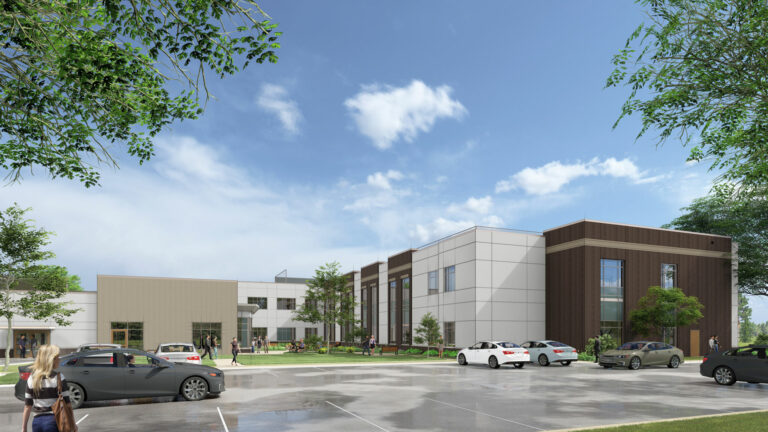 © ESa
KNOXVILLE, TENN
.
(07/27/2020):
Capital Growth Medvest broke ground in June on the new inpatient rehabilitation hospital in Knoxville, Tenn. The development is a joint partnership between Tennova Healthcare, The University of Tennessee Medical Center, and Kindred LifePoint Healthcare. The facility, located in the new Tennova Health Park, is expected to open next year in June. The innovative 57-bed rehabilitation hospital, complete with all private rooms, will provide care to patients suffering from stroke, traumatic brain injury, spinal cord injury and other acute conditions and disorders.
The 71,000-square-foot facility will provide many advanced features to its patients, including therapy gymnasiums utilizing today's latest in augmented reality rehabilitation. The healthcare development will also contain a therapeutic courtyard with a golf chipping range, pickle ball and cornhole.
Earl Swensson Associates, a nationally recognized architecture firm located in Nashville, is the project architect. JE Dunn Construction, recently recognized by Modern Healthcare as one of the nation's top three healthcare builders, is the general contractor.
"This project represents our third rehabilitation development for Kindred Healthcare and its joint partners," said Joseph Baugh, partner at Capital Growth Medvest. "It's really exciting to help a nationally recognized healthcare company expand and continue improving patient care in Knoxville."
Once the healthcare development project is complete, the new facility is expected to serve over 1,200 patients annually. The rehabilitation hospital's design has been used across several Kindred LifePoint locations throughout the nation with great success in helping patients enhance their outcomes and improve their quality of life.
"Together, we will ensure that patients requiring rehabilitation for successful recovery after their hospital stay for trauma, stroke, brain injury, and numerous other conditions and illnesses will receive exceptional care and treatment at Knoxville Rehabilitation Hospital," said Joe Landsman, president and chief executive officer of The University of Tennessee Medical Center.
About Tennova Healthcare
The Tennova Healthcare network of hospitals in East Tennessee includes Jefferson Memorial Hospital, LaFollette Medical Center, Newport Medical Center, North Knoxville Medical Center and Turkey Creek Medical Center with nearly 16,000 admissions, 410,000 outpatient visits and 125,000 emergency department visits each year.
About The University of Tennessee Medical Center
The mission of The University of Tennessee Medical Center, the region's only hospital to achieve status as a Magnet® recognized organization, is to serve through healing, education and discovery. UT Medical Center, a 685-bed, not-for-profit academic medical center, serves as a referral center for Eastern Tennessee, Southeast Kentucky and Western North Carolina. The medical center, the region's only Level I Trauma Center, is one of the largest employers in Knoxville.
About Kindred LifePoint Healthcare
Kindred LifePoint Healthcare, LLC is a healthcare services company based in Louisville, Kentucky. At March 31, 2020, Kindred LifePoint through its subsidiaries had approximately 31,800 employees providing healthcare services in 1,731 locations in 46 states, including 64 long-term acute care hospitals, 21 inpatient rehabilitation hospitals, 10 sub-acute units, 95 inpatient rehabilitation units (hospital-based) and contract rehabilitation service businesses which served 1,541 non-affiliated sites of service. Ranked as one of Fortune magazine's Most Admired Healthcare Companies for nine years.
About Capital Growth Medvest
Capital Growth Medvest, based in Birmingham, Alabama, helps medical facilities operate efficiently through real estate development and funding support. Its founders have completed well over $1 billion in healthcare developments and acquisitions, allowing them to find solutions to even the most complex needs. Medvest delivers the knowledge, relationships and resources to help reach a facility's goals.
Comments or Questions:
Joe Baugh: (205) 969-7140