Tampa Medical Development Remains On Course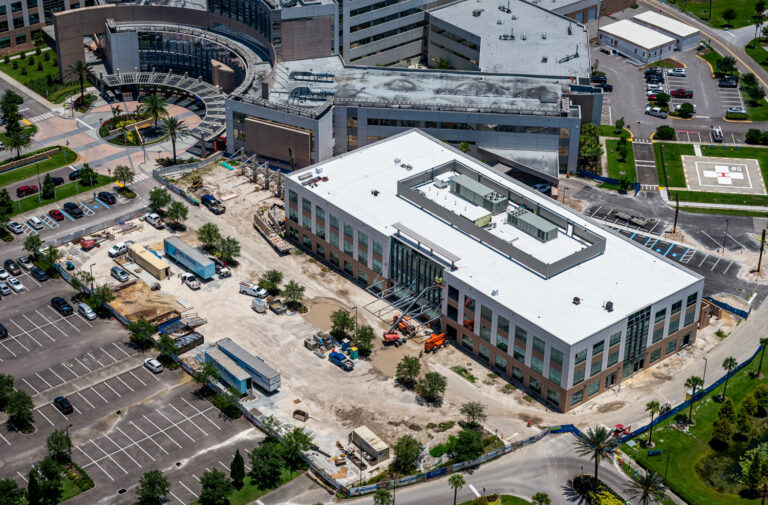 WESLEY CHAPEL, FLA
.
(07/24/2020):
The new three-story, 96,000-square-foot medical office building on the existing AdventHealth Wesley Chapel campus has reached the construction milestone of "topping out" — finishing the building's core structure. The project is on schedule to be completed successfully by the end of the year. The facility is a partnership between AdventHealth and Moffitt Cancer Center to bring modern outpatient cancer treatment to the AdventHealth Wesley Chapel. Capital Growth Medvest, headquartered in Birmingham, Ala., is the healthcare project's real estate developer.
When completed, the facility will provide treatments for a wide range of specialties, including oncology, orthopedics and physical therapy. The medical office building will also feature an ambulatory surgery center, classroom space, and a convenient retail pharmacy.
"This area is seeing rapid growth, the population is exploding. There is a need for this community to have world-class cancer care," said Dr. Louis Harrison, the chief partnership officer for Moffitt.
Brasfield & Gorrie, a nationally ranked construction firm, is acting as the project's general contractor. They are working diligently to actively minimize the impact of construction on the campus' patients and healthcare professionals. HuntonBrady Architects, recognized with 65 American Institute Design Awards, is the project architect.
About Moffitt Cancer Center
Moffitt is dedicated to one lifesaving mission: to contribute to the prevention and cure of cancer. The Tampa-based facility is one of only 50 National Cancer Institute-designated Comprehensive Cancer Centers, a distinction that recognizes Moffitt's scientific excellence, multidisciplinary research, and robust training and education. Moffitt is a Top 10 cancer hospital and has been nationally ranked by U.S. News & World Report since 1999.
About AdventHealth West Florida Division
The West Florida Division of AdventHealth has some of the nation's brightest medical minds making lifesaving breakthroughs with surgical pioneers, scientists and researchers using leading edge technology and innovation to deliver our brand of whole-person care. We are more than hospitals, as we have a robust system of care including specialty acute care, over 200 primary care and specialty employed physicians, Express Care at Walgreens clinics, urgent care centers, wound care, physical therapy and home health care.
About Capital Growth Medvest
Capital Growth Medvest, based in Birmingham, Alabama, helps medical facilities operate efficiently through real estate development and funding support. Its founders have completed well over $1 billion in healthcare developments and acquisitions, allowing them to find solutions to even the most complex needs. Medvest delivers the knowledge, relationships and resources to help reach a facility's goals.
Comments or Questions:
Joe Baugh: (205) 969-7140