Birmingham Freestanding Emergency Department Is Underway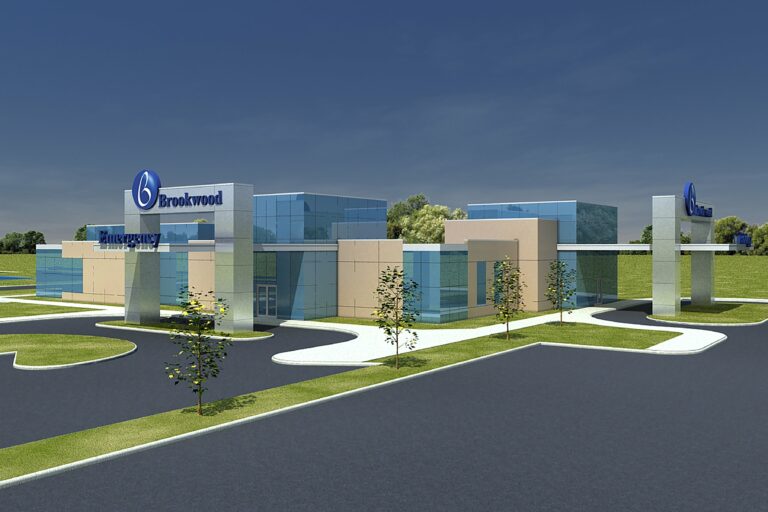 © Even Terry Associates
BIRMINGHAM, ALA
.
(02/12/2015):
Brookwood Medical Center's Freestanding Emergency Department (FED) is underway with today's land purchase and financing by medical real estate developer, Capital Growth Medvest. Heavy equipment should be on-site within days, including the final permitting required to begin the initial stages of land clearing and grading.
The new facility will be an extension of Brookwood Medical Center's main campus in Homewood, Ala. and provide institutional occupancy for all hospital services. Once completed, the FED will include twelve private exam rooms with specialized support for mental health and cardiac trauma. As an emergency facility, it will be supported 24 hours a day for both EMS and ambulances with a heliport, decontamination and emergency systems. Patients will have access to on-site imaging and diagnostics, laboratory, pharmacy and food services.
Evan Terry Associates, a Birmingham architectural firm, is acting as the project's architect. Hoar Construction, a national construction company that started in Birmingham, will be the project's general contractor. The project is expected to reach completion in the fall of 2015.
"We're excited to help develop one of Alabama's first FED facilities with Brookwood Medical Center," said Kathy Brewer, managing director of development at Capital Growth Medvest.
About Capital Growth Medvest
Capital Growth Medvest helps medical facilities operate efficiently through real estate development and funding support. Its founders have completed well over $1 billion in healthcare developments and acquisitions allowing them to find solutions to even the most complex needs. Medvest delivers the knowledge, relationships and resources to help reach a facility's goals.
Comments or Questions:
Joe Baugh: (205) 969-7140